Miami County Republic Highlights Students Participating in Foundations for the Future Week
Miami County Republic Highlights Students Participating in Foundations for the Future Week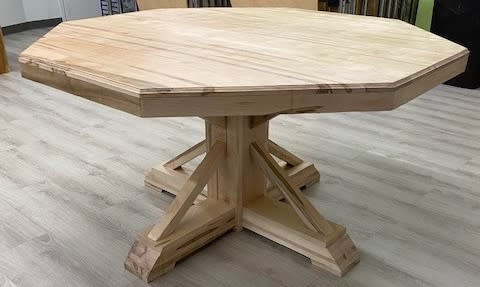 Paola High School is participating in the KCHBA's Foundations for the Future Week with projects entered into the Parade of Playhouses and the KC MADE competition. Industrial technology teacher Josh Furnish worked with students in his intro to industrial tech class to build a barn-themed playhouse that features John Deere colors and lights powered by a solar panel while two other students entered projects into the KC MADE competition.
"PHS sophomore Levi Minden was putting the finishing touches on his homemade kitchen table Monday, March 27, inside the high school's shop area," the article in the Miami County Republic states. "Levi said he chose ambrosia maple wood because it looks nice, and after the competition, the table will be featured prominently inside his family's kitchen that is being remodeled."
"PHS juniors Christian Herman and Tristan Ramsdell made a lift top coffee table in their cabinet making class for the competition. After the event, they plan to sell the piece of furniture."
Click here to read the full article in the Miami County Republic.